NXT APRIL 8, 2020 .— As is already known, The health contingency for Covid-19 caused the event to be canceled NXT TakeOver: Tampa, but the main struggles we are now seeing in the weekly program of the yellow mark. Tonight we will see what would be the main duel, the final clash between Johnny Gargano and Tommaso Ciampa. If NXT is to beat ratings for AEW DynamiteIt must be tonight Well, that contest promises a lot. The program is broadcast from the facilities of the WWE Performance Center, in Orlando, Florida.
NXT April 8, 2020
In addition to the butchery between Gargano and Ciampa, tonight we will have the long-awaited stair fight that will define the next challenger for the NXT Championship, in power of Charlotte Flair. The participants are Chelsea green, Mia Yim, Tegan nox, I Shirai y Candice LeRae.
NXT April 8, 2020
► 1- Ladder fight: Io Shirai vs. Chelsea Green vs. Candice LeRae vs. Dakota Kai vs. Tegan Nox vs. Mia Yim
We started the program with everything with this important fight, where the winner will be the number 1 challenger to the NXT Championship that is now held by Charlotte Flair. Chelsea Green is accompanied by Robert Stone, while Dakota Kai comes with her bodyguard Raquel Gonzalez.
The bell rings and the couples arm: Yim against Green, Shirai against LeRae and Dakota against Tegan Nox, and it is Dakota who remains standing after the initial attack and orders Raquel to bring him a ladder, but LeRae attacks her with a dropkick and it falls.
And apparently, an all surrounded Dakota Kai is punished by the three friends: LeRae, Yim and Nox.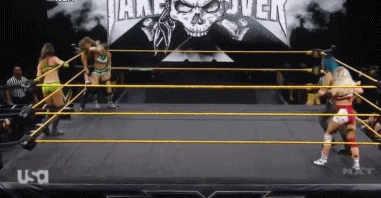 LeRae is left standing and looking to climb, but Shirai enters the ring and removes the ladder and both exchange blows, although they fail in their intention to hurt their rival against the ladder. Green enters and with a bulldog, punishes both against the metal ladder.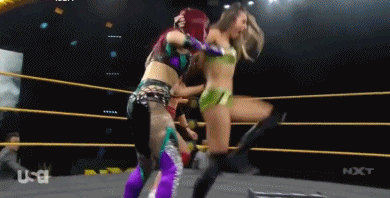 Returning from commercial, Dakota Kai and Tegan Nox remind us that their rivalry still stands, and they find everything.
Tegan and LeRae are looking to climb, and after arguing a bit, they are lowered by Green and Kai, and these are surprised by Yim and Shirai.
Eventually they are all on the mat and before they ask, the partnership between LeRae and Mia Yim ended.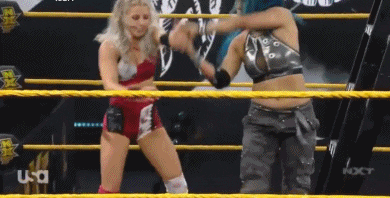 Shirai cleans the house and seeks to climb, but Raquel González enters the ring and pushes the ladder. The Japanese, takes advantage, propels from the third rope and throws herself on the plate over her rivals, who are outside.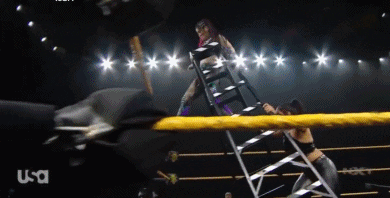 Precisely, Raquel González is not allowing anyone to approach the ring, and goes in search of Dakota to help her to climb. In fact, he literally carries her, but Mia Yim appears and seeks to neutralize González and takes her to the corner. Dakota falls off the ladder.
Mia Yim and Raquel are punished on the corner and Tegan goes to support her friend, and they combine with a chokeslam and powerbomb to throw the rue against a table.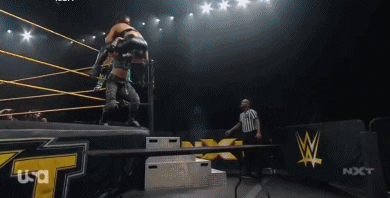 Tegan doesn't have much time to celebrate as Dakota surprises her with a big boot and walks her up on a ladder.
In the midst of the fallen body, now Robert Stone helps Chelsea Green climb and Green even touches the briefcase, however, before he can unhook it, Io Shirai and LeRae push the ladder and send Stone and Green against the third rope.
Shirai and LeRae climb and when they reach the top, Shirai pushes LeRae and she hits with a ladder that was on the corner. With the road clear, Shirai reaches the briefcase and achieves victory.
Io Shirai is the winner in a good fight and is the number one challenger to the NXT Women's Championship. Deserved for the Japanese, who returned from an injury a few days ago.
I win Io Shirai and our great friend mr. Otaku should already be on his way to Plaza Dignidad 😅 @MiguelelExtremo @abloViTo @X_FABIAN_TORRES @louisecaba #WWENXT #NXTonUSA #NXTCL #WarCL pic.twitter.com/71IEk3x1Bk

- The Phenomenal Tomy Castañeda (@CMTomyRollins) April 9, 2020
Io Shirai vs Charlotte Flair, I am very prepared to enjoy.#WWENXT

- 𝑨𝒔𝒕𝒖 (@BlissedAstu) April 9, 2020
We reviewed the rivalry between Finn Balor and WALTER a bit, where the Irishman returned the visit to the members of Imperium in NXT UK, facing Alexander Wolffe.
After the referee kicked out the other members of Imperium, Balor defeated Wolfe with his combination of Dropkick, Coup de Grace and 1916.
Now Balor gives a promo and basically warns WALTER that he is after his title, although for now he says that the title is "on loan for a while"
Now we review a video with the masked men who have kidnapped Mendoza and Wilde
► 2- Indus Sher vs. Ever rise
The action begins and Rinku invites his rival to attack him, and he tries, but the big man does not move. Now, the Ever Rise team combine and manage to do some damage to Singh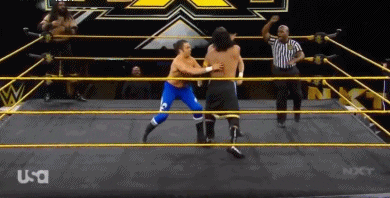 Now it is the big men who punish Parker combining with fast relays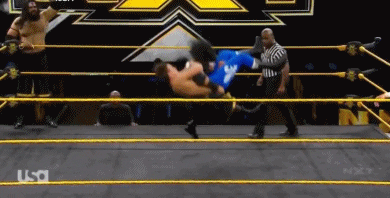 Parker is missing, and Singh punishes Barthel, who is on the corner. Then they keep combining to beat up Parker, who they finish off with a machete and put an end to this.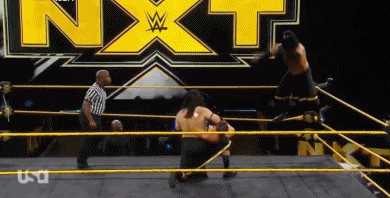 Indus Sher take the victory in a contest too easy. Good debut for big men. Their combination has an air similar to AOP.
https://twitter.com/_wwearg/status/1248051690680524800?s=20
These two monsters took a long time to debut on NXT, because they had already fought in a battle royale at NXT's WrestleMania Axxses.#WWENXT

- WWE ARGENTINA🇦🇷 (🏠) (@ClubWWEArg) April 9, 2020
Earlier in his quarantine, Adam Cole "congratulates" Velveteen Dream for defeating Bobby Fish. He tells her that if he keeps trying, maybe he will give him a chance to end his experience, and there will be nothing Dream can do. And that is indisputable.
We have a review of what happened at WrestleMania 36 when Rhea Ripley fought Charlotte Flair for the NXT Women's Championship, where "The Queen" was proclaimed as the new monarch.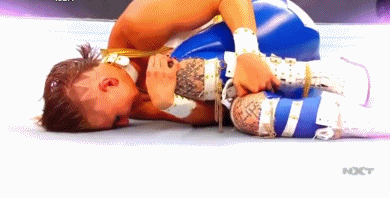 ► 3- Johnny Gargano vs. Tommaso Ciampa
Gargano arrives at the location given by Triple H, says goodbye to his wife Candice LeRae, who gives him something and leaves in the car.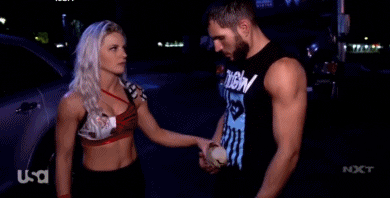 Triple H receives them and basically tells them the rules: "What you do in the ring, must be in the ring." He introduces them to the referee, who will be in charge of decreeing the winner. As soon as Triple H steps out the door, they can hit on everything. Of course, he leaves them a chair just in case.
Indeed, after Gargano and Ciampa have spoken, they begin to find everything. Ciampa takes Gargano out of the ring, but he seeks to enter the second rope and is received by a knee from Ciampa.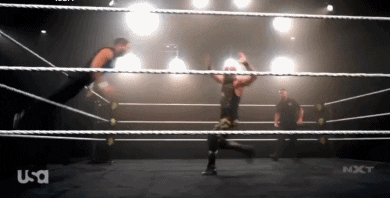 Now Ciampa punishes Gargano against the corner. The referee asks him, but nothing that gives up.
Gargano rejoins and sends Ciampa out of the ring, where they take the action and Johnny Wrestling is in control, but momentarily, since he cannot lift Ciampa and he takes advantage and hits him against the cornerback.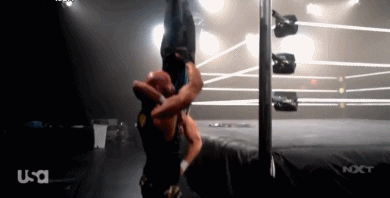 Now Gargano recovers and outside the ring they keep hitting everything and throws Ciampa against a chair.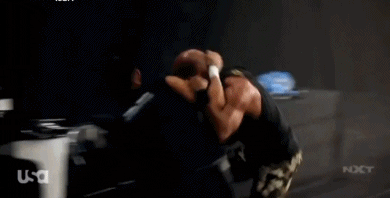 Gargano is still in control and both return to the ring, and now he arms himself with the chair and hits him with the edge on the back.
Now, after a brief rest, Gargano places the chair against the corner and seeks to throw him there, but Ciampa reverses it and it is Gargano who receives the impact.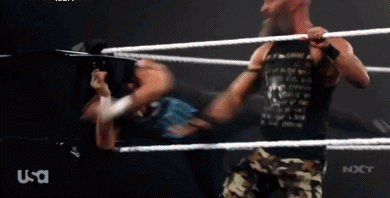 Now Ciampa is armed with a trash can lid and hits Gargano a few times with it. Now punish him using the chair.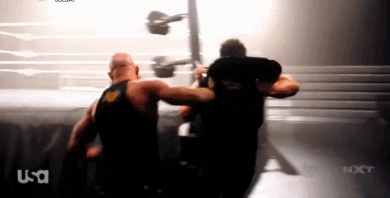 Now Ciampa finds his crutch (how convenient!) And punishes him with it. Gargano doesn't get up, but he doesn't give up either. And in the meantime, one or another insult is heard. However, out of nowhere Gargano finds a fire extinguisher and activates it on Ciampa's face.
However, it did not help much, since Gargano bombed him on a table.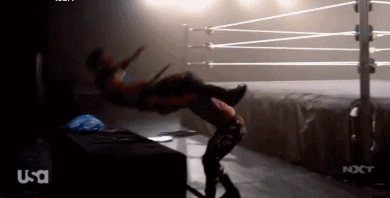 Now Gargano cuts the ropes that hold the ring, removes the protection and leaves the wood exposed. Then, he goes in search of Gargano, who is still out of the ring and escapes to the parking lot, where he throws a cart and hits Ciampa.
Now it is Gargano who strikes in the middle of the night, but when he tries to throw a cart at him again, Ciampa dodges it, escapes and climbs onto the roof of a truck.
Ciampa invites Gargano and he climbs. Both are now hitting each other on top of the NXT truck.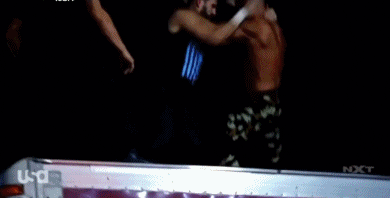 Both continue the exchange, this time with kicks, until both are lying on top of the vehicle.
Upon returning from the commercial, both have entered the building, and it is Gargano who has the advantage and introduces Ciampa to the ring, where he punishes him against the cornerback. However, Ciampa manages to resist and manages to grab Gargano and apply Air Raid Crash and both fall out of the ring.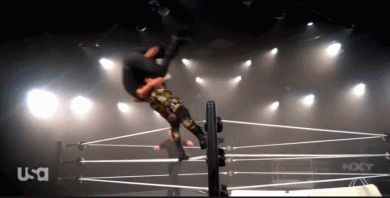 Ciampa puts Gargano in the ring and covers him. The referee counts to 2. It seems that you can win by falling.
#WWENXT. The violence increases and Johnny Gargano is far from being satisfied.https://t.co/duR8Dc5oiH pic.twitter.com/OtEvXvF1zC

- Superluchas.com (@Superluchas) April 9, 2020
Ciampa seeks to punish him with his crutch, but Gargano surprises him with the metal cap and hits his leg. Gargano then tries to make him surrender with the crutch, but Ciampa grabs the same cap with which he was punished and attacks Gargano to release him.
"You are a failure," Gargano says to Ciampa. and seeks to punish him with the crutch, but Ciampa reverses the situation in his favor again and hits his rival as a piñata at a party.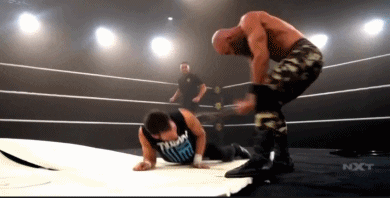 Upon returning from the commercial, Ciampa manages to apply a surrender key on Gargano, leaning on the crutch, but he does not give up. Ciampa goes by a knee, but Gargano dodges and hits the referee, who falls out of the ring. Gargano takes advantage of the distraction and sends Ciampa outside too.
Back in the ring, they both exchange kicks. Then they are simultaneously impacted with the crutches and lie down.
Candice LeRae enters, sees the scene and is horrified and tells them to stop. After challenging Gargano, he tells Ciampa to finish it, although it sounded ironic; however, he turns around and .. LeRae's low shot for Gargano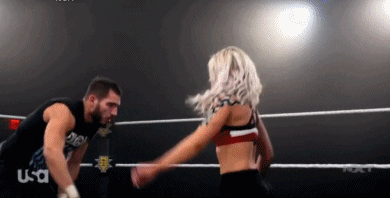 The blonde leaves, Ciampa is surprised, but instead of covering it, he is thoughtful and then he approaches Gargano and it seems that they lost their intensity and apologizes to his rival. However, when they both rejoin, LeRae reappears and attacks Ciampa with a low blow.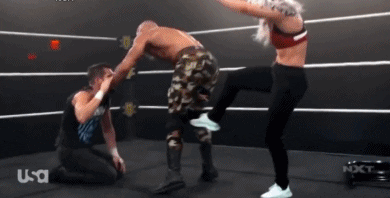 Ciampa falls and Gargano laughs and takes off a protector that he had put on (which was the article that LeRae gave him before entering). Finally, the referee appears, Gargano covers and 1, 2 and 3.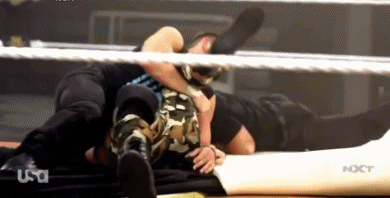 Johnny Gargano wins in an intense fight, with an anticlimactic ending. Apparently they put an end to their rivalry, according to Triple H's orders, but it was a different fight, with a lot of action (if we remove the commercials), and a controversial ending.
Ciampa is lying in the ring.
Gargano and his wife happily leave the building, and so ends the program.
"Fair is foul, and foul is fair."@CandiceLeRae & @JohnnyGargano relish in their victory. #WWENXT #CiampaVsGargano pic.twitter.com/BH7qIHW8zX

- WWE NXT (@WWENXT) April 9, 2020
WTF?
Candice?
But why?
And double !!
Ahhhhhh I don't believe it 😱
What kind of love and hate is this?

Johnny Fight Won

What a fight, gentlemen!#NXTCL #WWENXT #WarCL

- Vicente Antonio Arteaga Aedo (@ArteagaAedo) April 9, 2020
Hahahahahahaha everyone fell on Candice's "Fake" turn #WWENXT

- J💀CK 🏊 (@ jacktattoo21) April 9, 2020
Thus ends this broadcast of NXT. Thank you very much for joining us. We wait for you on Friday for another Friday Night Smackdown coverage