AEW DYNAMITE APRIL 8, 2020 .— Professional wrestling refuses to stop in these times of pandemic, and despite the vicissitudes, Weekly programs from the top two companies in the United States continue. In the case of AEWalthough plans such as the one have been postponed Blood & guts, others are still standing. It is because of that A tournament has been organized to crown the first TNT Champion. Who will win? AEW Dynamite is broadcast behind closed doors from the One Fall Power Factory, in Norcross, Georgia.
AEW Dynamite April 8, 2020
The first round of fights in the tournament for the TNT Championship is very promising, as several of the matches have a story behind them. For today we will see Cody face Shawn spears.
In a female match, Hikaru shida, who has placed himself at the head of the women's division, will collide with the rudísima Britt baker.
In addition, Kenny omega will team with Michael Nakazawa to face the Best Friends: Chuck Taylor y Trent, Together with Orange cassidy.
AEW Dynamite April 8, 2020
We start with Jake Roberts saying:
"Would you stand on the train tracks, even knowing what will happen? No, right? Then why would you enter a ring with Lance Archer? I understand you, Cody, but I laugh at you saying you're a man. Because you are an idiot. Cody, please, I sense that something fun will happen and that Shawn Spears will do something that will surprise everyone except me. I'll see you face to face soon. "
► 1- Lance Archer vs. Alan Angels
We quickly entered the first fight of the night. Lance Archer trashed Marko Stunt in his debut eight days ago, and he's still unstoppable looking for a fight against Cody. Chris Jericho and Tony Schiavone were at the comment table.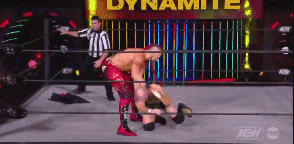 The fight does not last even two minutes. Archer sends his rival flying through the air with a Suplex, and then riddles it against the canvas to take the victory.
► 2- Hikaru Shida vs. Britt baker
The fight begins with the eastern power quickly over the dentist, who has to flee the ring to rethink her strategy. Fortunately for her, manages to recover once he enters the ring and begins a strong attack on his rival.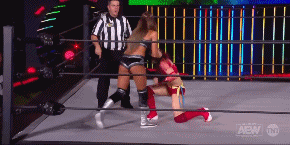 After a hack to the head Booker T style, she focuses on kicking her rival's face and is so confident, that she speaks to a camera and is careless.
"Let us be friends after I win and dominate the entire #AEW Women's division. OK? Cool! " - @realbrittbaker.
Watch #AEWDynamite NOW on @TNTDrama 8e / 7c #AEWonTNT @AEWonTNT pic.twitter.com/WsACU1N2t6

- All Elite Wrestling (@AEWrestling) April 9, 2020
Her rival kicks her and throws her against the protective barricade, then knees her whileApparently one of the few fans out there in the arena, perhaps other fighters from the QT Marshall school, have it. We are going to commercial breaks.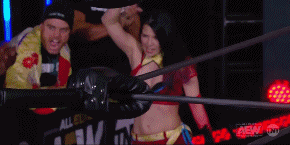 We are reminded of the semifinal matches in the tournament for the TNT Championship:
GOOD NIGHT ROYAL WRESTLING🔥🔥🔥

Do you feel like Wrestling? We do, so we invite you to join us tonight with our live coverage of #AEWDynamite

We start in 10 minutes, LET'S GO‼ ️‼ ️‼ ️‼ ️ pic.twitter.com/eeqpp1HOMQ

- Royal Wrestling 👑 (@RoyalWrestling_) April 8, 2020
Back in the ring, Shida attacks Britt with two vertical Suplexes and then, when she tries to surprise her with a roll account, He puts his arm on a lever, but Baker manages to touch the ropes.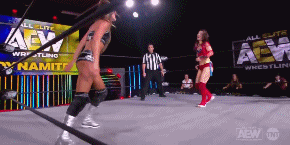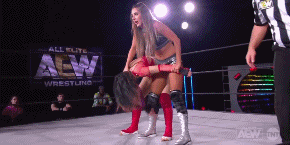 Slingblade and Suplex for Shida, Britt narrowly wins the fight. Shida's Enzuigiri who replied with a Superkick.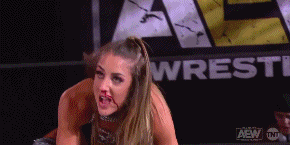 In a few seconds, after a knocked back, she almost managed to make the oriental go for tapas. The dentist's nose bleeds profusely and then Shida applies a face destroyer.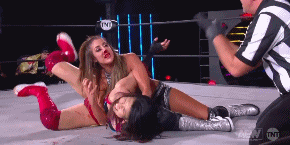 The count only reaches two, and then Britt tries to surrender Shida, but she gets a count of two and knees him in the nose. Britt recovers and knocks Shida down, then follows heavy punishment and laughs as he runs his blood down the eastern face.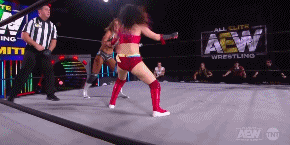 Me: "How's your Wednesday night"@realbrittbaker: "Good thanks just gushing blood over here. Could be worse "
Watch #AEWDynamite NOW on @TNTDrama 8e / 7c #AEWonTNT @AEWonTNT pic.twitter.com/Q5vOCAxScu

- All Elite Wrestling (@AEWrestling) April 9, 2020
Fantastic fight, very far from the standard of women's fight in WWE. However, when everyone thought Britt Baker was at her best, Hiraku Shida manages to surprise her and give another flying knee to the face to take the victory.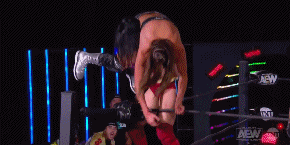 What a match! @shidahikaru #AEWDynamite pic.twitter.com/U4SNbYebvc

- All Elite Wrestling on TNT (@AEWonTNT) April 9, 2020
SMALL COMBAT‼ ️‼ ️ #AEWDynamite

BAKER and SHIDA have not left anything in this great fight, which has ended up winning the Japanese fighter.
The last minutes of this duel, his rival ended up with enough blood on his nose 😱 pic.twitter.com/wMmWqvO4Pt

- Royal Wrestling 👑 (@RoyalWrestling_) April 9, 2020
Shida vs. Baker was a damned good matched !! #AEWDynamite #AEW #AEWonTNT

- A Black Joestar / Diavolo's Underboss (@Lyric_Lunaris) April 9, 2020
Good comments follow for these fights, but especially for Britt Baker, who with each passing day she looks more like a star:
Britt Baker vs. Hikaru Shida was a blast. They beat the living shit out of each other. Baker has improved a lot in the ring, as a character and as a worker on TV. Shida laid everything in and fought from underneath a cocky heel and looked awesome

- Sean Ross Sapp of Fightful.com (@SeanRossSapp) April 9, 2020
This has definitely been one of Britt Baker's better matches in All Elite Wrestling.

The busted nose, the blood, the atmosphere.

Enjoying this one a lot.#AEWDynamite pic.twitter.com/HpFp4Q6c1A

- WrestleNews365 (@ 365Wrestle) April 9, 2020
A video of a discussion that occurred this morning is shown and that will give rise to the next fight for the right to use the name of Best Friends:
It's Best Friends vs. Best Friends with the "Best Friends" name on the line!
(Yeah, you read that right)
Watch #AEWDynamite NOW on @TNTDrama 8e / 7c #AEWonTNT @AEWonTNT pic.twitter.com/cJ9aftvOQP

- All Elite Wrestling (@AEWrestling) April 9, 2020
Jake Hager is shown training with his wife Catherine, and Jon Moxley, AEW World Heavyweight Champion, speaking a week after his No Holds Barred fight in empty arena.
Hey y'all! @AEWonTNT is ALL NEW right now !!! #AEWDynamite #AEW pic.twitter.com/ufbNlmkpIq

- The Brandalorian (@TheBrandiRhodes) April 9, 2020
Shawn Spears says he is not nervous about facing Cody as he has been waiting for him for 18 months. Cody says he is a man of titles, so it will be easy to get over Spears.
Cody: "I don't think Spears is going to be able to beat me. He NEVER WILL!"
Shawn Spears: "One fight at a time, one moment at a time, one victory at a time! This tournament is mine!"
► 3- The name "Best Friends" is at stake:
Kenny Omega and Michael Nakazawa vs. Best Friends (Chuck Taylor and Trent) (with Orange Cassidy)
Four great talents in the ring. The original Best Friends are the ones who take the lead and hit Kenny Omega. Nakazawa takes over, though Kenny doesn't seem to bother.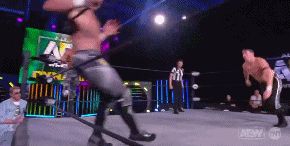 The oriental puts baby oil on his chest, and Trent "can't" hack at him, so Nakazawa and Omega hit him. The referee does nothing, and everyone enters the ring. What a lack of authority.
Before going to a commercial court, Nakazawa begins to exercise carrying his rival as a load, while his crotch punishes him.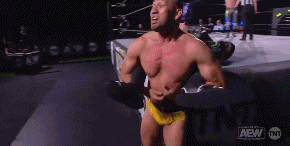 The fight has a lot of the comic style of Japan and DDT, but obviously also a lot of quality.
This is a funny moment of combat: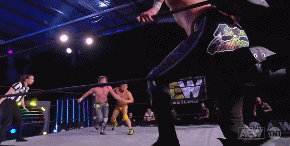 And this is a moment of combat fighting:
Orange Cassidy goes up to the ring and this happens: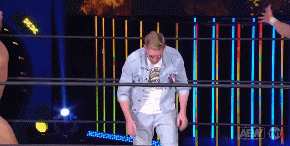 Nakazaga puts Trent's sweaty underpants on his face, and almost achieved victory for his team.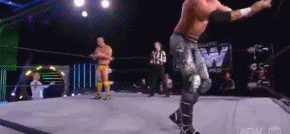 Then he makes a mistake and puts Omega's underpants on and this is recovered in time to avoid the count of 3.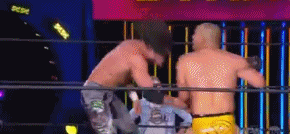 And then he does the same after a Piledriver, but he can't when Trent and Chuck are combined with the last one falling on Michael's back and the original Best Friends keep his name. Then they all hug.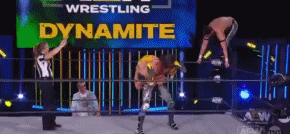 The Exalted One, Brodie Lee, is talking to his minions about The Dark Order and asking the masked men that everyone should look like him: elegant. And so, nobody can go in training sweatshirt, must go in suit and tie. The elegant masked man is given an opportunity to enter the AEW arena with Brodie Lee, and the other 2 are sad.
Britt Baker, bloody, says that she is a role model, and that Hiraku Shida is the dirtiest fighter that you have faced. He says he's lucky he didn't touch his teeth, although later she says that she herself could have managed ... Because she is a dental doctor!
EXCLUSIVE: Post-match interview with @RealBrittBaker.
Watch #AEWDynamite NOW on @TNTDrama 8e / 7c #AEWonTNT @AEWonTNT pic.twitter.com/NGAvxFizEx

- All Elite Wrestling (@AEWrestling) April 9, 2020
The second part of the countdown is issued for the No Holds Barred fight between Jake Hager vs. Jon Moxley for the AEW World Heavyweight Championship in an empty arena next week.
Hager: "Next week, I don't care what, people will see a new AEW World Heavyweight Champion."
Moxley: "He fucks you **!"
►

Damascus Matt Hardy speaks
Damascus Matt Hardy speaks from the Hardy Compound and He tells Chris Jericho that he insulted him last week. And then he says that Sammy Guevara is a Latino who can't even speak Spanish, unlike him, who loves Spanish and the culture of Puerto Rico, the same as Ortiz and Santana.. Then, he claims him for yelling at Vanguard1 and he brings him a Chris Jericho shirt to be burned at the stake. DELETE! DELETE! DELETE! This will happen to members of The Inner Circle!
Matt Hardy: "I challenge Inner Circle members to come to the Hardy Compound for an Elite Deletion lucah!"
#LeChampion @IAmJericho vs. DAMASCUS, the ESSENCE that is currently fueling #BROKEN @MATTHARDYBRAND in an Elite Deletion?
Watch #AEWDynamite NOW on @TNTDrama 8e / 7c #AEWonTNT @AEWonTNT pic.twitter.com/RK0t9KwvRa

- All Elite Wrestling (@AEWrestling) April 9, 2020
► 4- Brodie Lee vs. Lee Johnson
Johnson looks for fast flying kicks, but Brodie Lee dodges him and gives him a Lariat.. Then a kick to the head and from the eyebrow of the ring, a bombshell satin.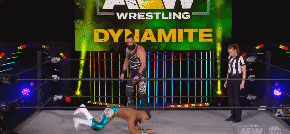 Punches to the back, and a Suplex to send him flying, and then a Spinning Slam. Marko Stunt boos him. The Exalted One takes the fight with its Spinning Lariat.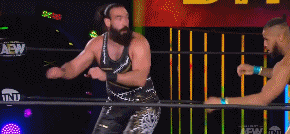 And then he wants a confrontation with Marko Stunt, but this one backs down in his boos and only greets him from afar while Brodie Lee leaves laughing.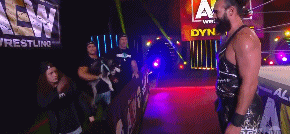 ► 5- TOURNAMENT FOR THE TNT CHAMPIONSHIP:
Cody vs. Shawn spears
The fight begins slowly, only one offense by Cody that ends on a count of two. Spears throws a chair into the ring, but when he enters it, Cody surprises him with a Diamond Cutter propelling himself from the ropes for a count in two. Then he throws it out of the puzzle and gets, first, one count in one, and then, one count in two.
Then a kick to the face for two beads in two. Cody dominates, Spears not even for the curves.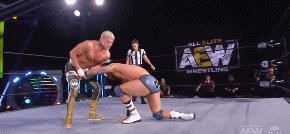 Although then he reacts with a Piledriver that almost kills Cody. The account reached only two.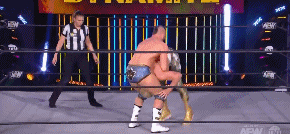 And then a lash against the cold Ringside floor.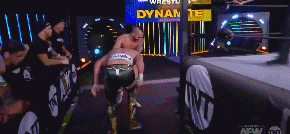 Then, Spears puts Cody's body through a barrier to Brandi Rhodes' uneasiness.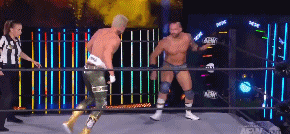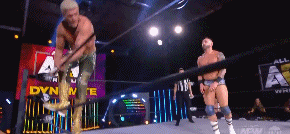 Cody pulls a table out from under the ring, but can't use it. Then another fighter takes Spears and gives him right hands.. He seeks to launch himself into the corner, but Spears paralyzes him with a Superplex.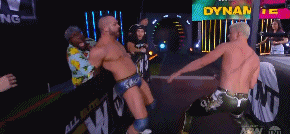 Brandi tries to distract Shawn, but Shawn doesn't flinch and then ducks before an attack by Cody, who narrowly connects her. Spears manages to fire Cody out of the ring and breaks the table with his body.. The referee's protection account reaches 9. Tremendous! Spears hits the canvas very frustrated.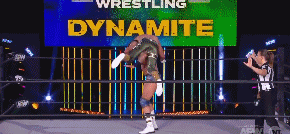 Incredible! Incredible! Not even two Cross Rhodes can make Shawn Spears lose!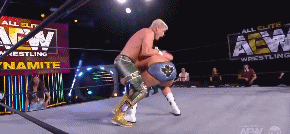 Even with two Cross Rhodes, it's STILL not enough to put the #AEW Chairman way!
Watch #AEWDynamite NOW on @TNTDrama 8e / 7c #AEWonTNT @AEWonTNT pic.twitter.com/XLQbQmbmu4

- All Elite Wrestling (@AEWrestling) April 9, 2020
The end comes surprisingly! Cody applies his cross to Shawn Spears' leg, and he writhed so much with the pain that he left his back flat and the bill came with nothing to do. Cody Rhodes advances to the semifinals of the AEW TNT Championship tournament.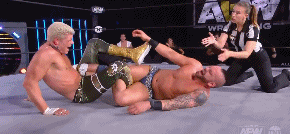 End of the show. Thanks for the company. See you on Friday in the coverage of Friday Night SmackDown here in SUPER FIGHTS.