Through a conference, the company Sanrio, creator of cartoons as iconic as Hello Kittyannounced the launch of some t-shirts as part of the campaign "Save Our Pro Wrestling"in support of 6 Japanese fighting companies.

► Sanrio launches "Save Our Pro Wrestling" in support of 6 Japanese companies
The announcement was made by the president of the company G-Mix, in charge of developing promotional products for the Sanrio characters, the best known in the West is "Hello Kitty"The promotional campaign is part of the revival of Japanese professional wrestling functions.
Six Japanese companies joined this cause: NJPW, AJPW, NOAH, DDT, Stardom, and Tokyo Joshi Pro, who gave the launch of some t-shirts where their logos are conjugated with the Sanrio characters, commanded by Hello Kitty. They also appear Pompompurin, My Melody, Keroppi, Badtz-Maru and Cinnamorol.
At launch, the six companies sent their representatives: Hiroyoshi Tenzan and Satoshi Kojima by NJPW; Go shiozaki, current monarch of full weight by NOAH; Suwama, holder of the Triple Crown by AJPW; Mayu iwatani by Stadom; Tetsuya endo, maximum monarch of DDT and Yuka sakazaki, champion Princess of Princess of TJP.
The shirts were created to appeal to people who don't normally see wrestling, especially since most promotions have suffered due to the Coronavirus pandemic (hence the motto "Save Our Pro Wrestling") and to mix "tenderness with hardness".
Depending on the company, it is the type of shirt. NJPW's are white with black and red prints; AJPW combine its traditional blue with black cloth; NOAH used the prints in emerald green, Misawa's color, on white cloth; DDT is the white shirt with the yellow print. For female businesses, Stardom was matched with a pink T-shirt with sky blue prints; while for TJP it was a black shirt with white and pink prints.
The shirts will go on sale through each company's website and on G-Mix's from July 3; there is the option for international sales.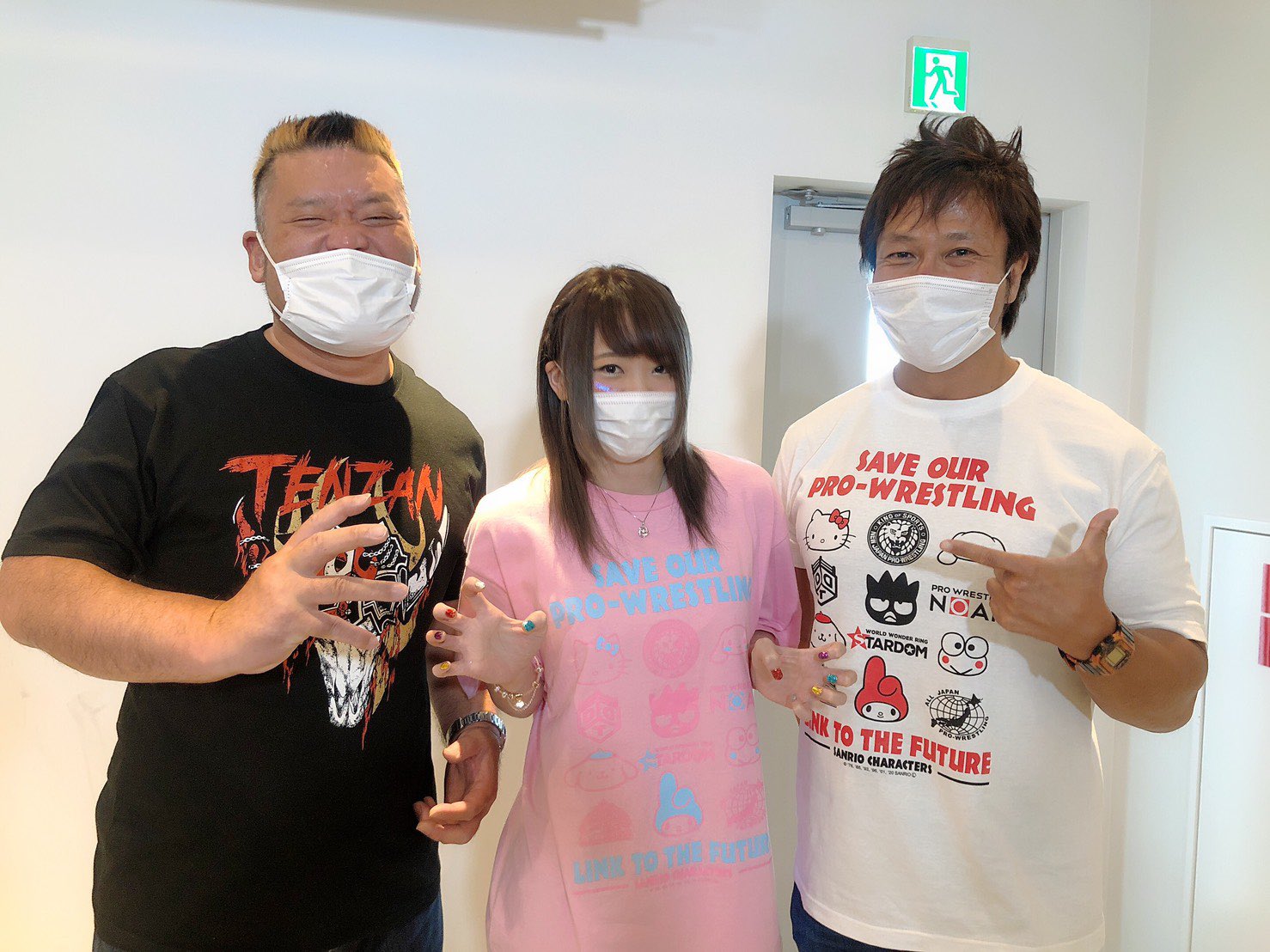 During the presentation, Go shiozaki He stressed that Sanrio has always been in favor of professional wrestling and that the "Save Our Pro Wrestling" campaign was very important for this post-coronavirus era.
At the end of the YouTube broadcast, Naomichi Marufuji He mentioned that it was surprising that these companies were together in the same room. He was referring not only to the social distancing that was occurring due to the Coronavirus, but also alluded to the difficulties (or past difficulties) between them. This collaboration is expected to be the first step on the road to the show dreamed of by Kazuchika Okada to unite all promotions when the Tokyo Olympics occur in 2021. I hope so.