Some fans who pay attention to details, last night, wrote immediately to SUPER FIGHTS something quite particular happened once in WrestleMania 36. Specifically, in the last man standing fight Edge vs Randy Orton. And it is that, in the first minutes, both got out of the ring and entered the gym of the WWE Performance Center, where something unexpected happened: Randy Orton tried to hang Edge by the neck.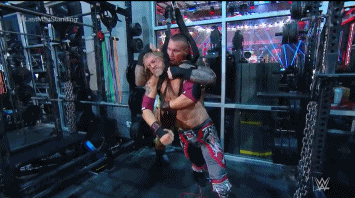 ► Edge vs Randy Orton: The controversy
Yes. Similar way to the one you used Chris Benoit to commit suicide after blinding the life of Nancy benoit and son Daniel Benoit. Hanging out in a gym is not a common thing so it doesn't seem like a reference to that fact, although we suppose that was not the intention.
🗣️Call me sensitive, but this spot of Orton hanging Edge on the weight machine I have seen in bad taste. Perhaps I have too recent a documentary The Dark Side of the Ring: Chris Benoit. #Wrestlemania pic.twitter.com/YrZRHDP1jD

- Carlos Argila (@argilacarlos) April 6, 2020
In this regard, the journalist Dave Meltzer commented in the most recent edition of the Wrestling Observer Radio, that this moment of the struggle that brought to mind the events of Benoit's death and acts, they fell ill inside some people in WWE. These were his words:
"Some people in the company told me it didn't offend them. But others were offended by it. I knew it as soon as I saw it. It is impossible that you did not see Benoit at that time, of course, unless he is a fan of new data. Here's something else too: this has probably affected talent, wrestlers, more than fans, because while you can say that there are fans who are new and did not notice it, There is not a single fighter there who does not know the Chris Benoit story. Not even a single one".