AEW DYNAMITE JUNE 24, 2020 .— Next week the Fyter festso in this episode of AEW Dynamite many cards in the deck will be arranged. It is therefore that several encounters that look exciting have been announced, although we will see some changes, since Jon Moxley, Dustin Rhodes and QT Marshall have been removed from the cartel due to the risk of contagion by covid. The action of AEW Dynamite is broadcast from Daily's Placein Jacksonville, Florida.
AEW Dynamite June 24, 2020
Without the fighters who had contact with covid carriers, the cartel has been reconfigured. Instead of a Jon Moxley fight, we will have his challenger in action, Brian Cage. His rival is yet to be confirmed.
FTR (Cash wheeler y Dax harwood) would be the ones who would face the Natural Nightmares, but now its rivals will be SCU (Christopher Daniels y Frankie Kazarian).
Furthermore, Matt Hardy he will assume the version of his person that the fans choose to face Santana.
In couples fight, Mr. Brodie Lee y Colt cabana will face Joey janela y Sonny kiss, while in a Lumberjack Match, Luchasaurus will fight Wardlow.
AEW Dynamite June 24, 2020
We started another night of fantastic wrestling. Tonight the poster has been almost radically changed by the possible positives of covid-19, however, an entertaining show augurs us, since AEW has everything you need to make your weekly Dynamite shows quite entertaining.
There is so much bigger among the public. And we go to the ring for action.
► 1- Lumberjacks FIGHT
Wardlow (with MJF) vs. Luchasaurus (with Jungle Boy)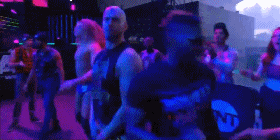 It is incredible the atmosphere that exists in AEW, there are not only fighters behind the barrier, but around the ring, of course, because it is a lumberjack fight in the middle of a pandemic. Everyone is making quite a noise, supporting their favorite.
The fight takes 3 minutes and is fairly even, with an exchange of right hands. Both have already been punished by the lumberjacks, but are quickly re-entered into the ring.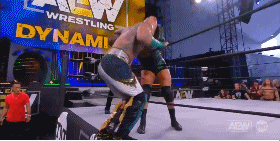 Wardlow's rude resource.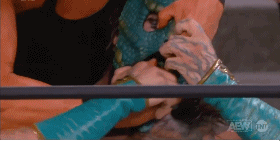 Luchasuarus demonstrates a rather insane ability for his height and weight, he even does a Moonsault while standing and doing leg sweeps that punish Wardlow.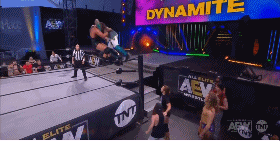 Superplex for Luchasaurus. The reality is that after almost 10 minutes of action, the lumberjack resource has not been used. It is beautiful to see how Luchasaurus flies, even Jim Ross is surprised and lets him know.
It is curious that while Luchasuaurus and Wardlow are on the entrance ramp to the ring, no lumberjack is going to attack them. Only until Jungle Boy tries, but it is thrown out by Wardlow, so it is that they beat him, even though he is not competing. Well interesting.
Another fighter tries to hit Wardlow and is sent down the platform, as is Marko Stunt, who throws him on top of the other fighters. It doesn't make much sense that Wardlow and Luchasuaurus are fighting like Pedro for their house if they are fighting lumberjacks, but anyway. Luchasuaurus shines with this beautiful Shooting Star Press.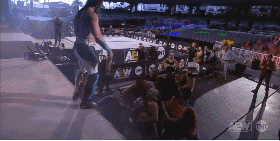 They get back into the ring, and a fighter blocks the referee's account after a Wardlow Chokeslam, who recovers and takes the victory after his brutal F-10.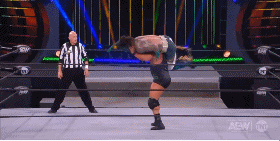 Well, interesting combat without a doubt, but it was missing making good use of the lumberjacks. After the fight, a brutal pitched battle is mounted.
The beautiful dental doctor Britt Baker has security guards and is sitting on a kind of throne enjoying life while drinking champagne.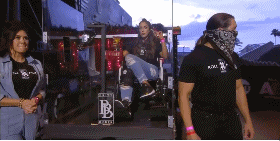 She is not ready to return to the ring yet:
.@RealBrittBaker really didn't like being thrown in the dumpster it seems. Look at that plexiglass case 😅 #AEWDynamite pic.twitter.com/NPSQuRcpaV

- All Elite Wrestling on TNT (@AEWonTNT) June 25, 2020
Hikaru Shida was expected to fight, but he argued with Penelope Ford as she made her entrance, and went toe-to-toe with her..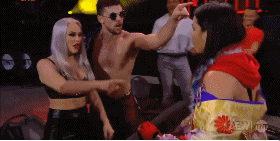 ► 2- Hikaru Shida vs. Red velvet
In the end there was a 10-second fight, where the Colombian father loses:
The champ @shidahikaru is NOT messing around rn #AEWDynamite pic.twitter.com/5ty3jCIhEn

- All Elite Wrestling on TNT (@AEWonTNT) June 25, 2020
Penelope and Hikaru meet again and several fighters separate them. The faces will be seen at AEW Fyter Fest 2020.
😱 @shidahikaru goes after @thePenelopeFord and DECKS @TheKipSabian! Someone's ready for #FyterFest #AEWDynamite pic.twitter.com/tJ8cGZtDAr

- All Elite Wrestling on TNT (@AEWonTNT) June 25, 2020
► 3- PRESS CONFERENCE PRIOR TO AEW FYTER FEST 2020
Cody vs. Jake hager
Jake Hager is not present at the press conference. So Cody and his teacher Arn Anderson, as well as his entire family, including Dustin Rhodes and Allie, a student at QT Marshall, and of course, Brandi, his wife, is present.
Arn Anderson says he is not surprised that Hager has not shown up, because he has been barking a lot lately, and that barking dog does not bite. He says that for him, this is not the time for Hager goes for the title of Cody, but he saw in the face of his agent that he wanted to beat up Hager, so that's why the challenge was launched to Hager, although in the end, Cody will remain champion.
Cody says he doesn't like having a goal in wrestling, but instead likes wrestling. He says that the TNT Championship is hope, because he felt incomplete and helped him overcome the fog of the pandemic.
Jake Hager appears with his wife Catalina!
Jake Hager appears and says nothing, he just stands next to Cody and they do a kind of confrontation like in the UFC, or Bellator, where he fights Jake. Hager puts his fist close to Cody's face and Cody throws his arm.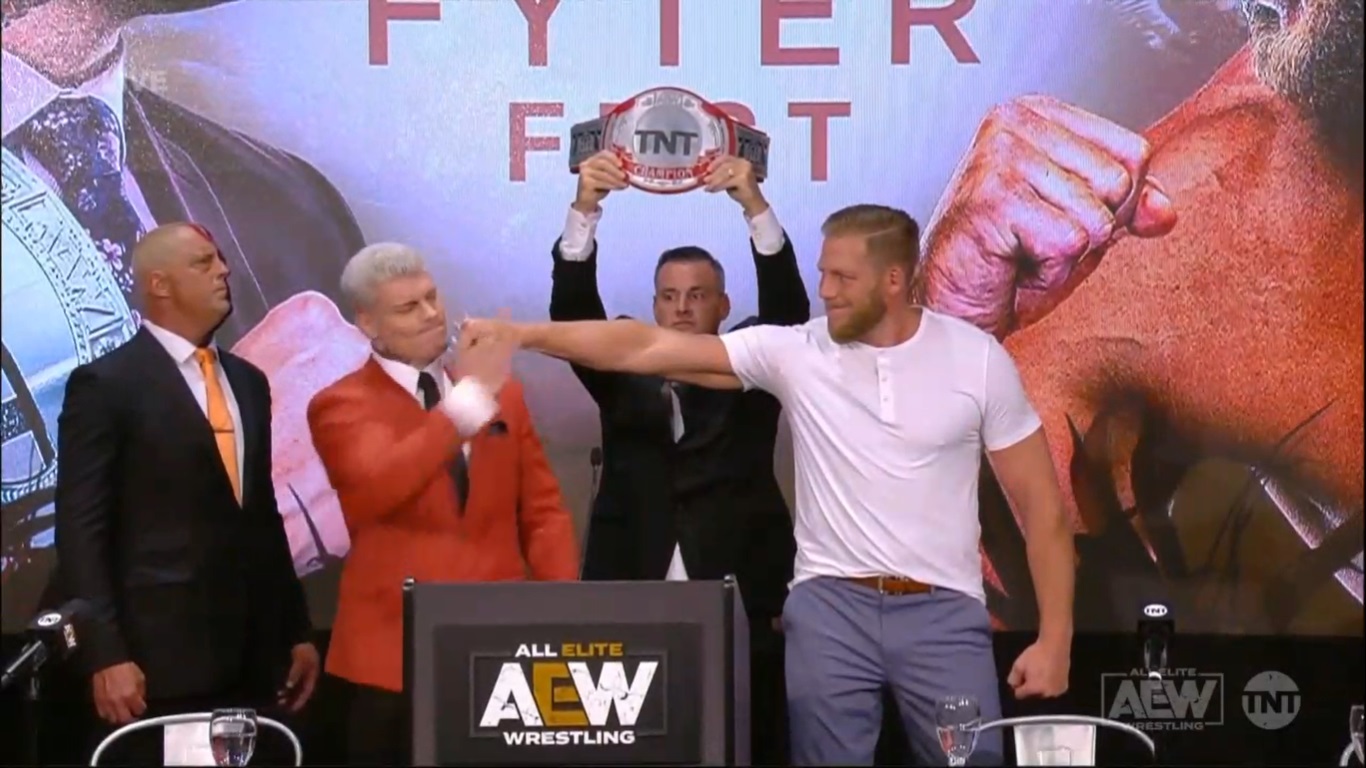 Jake does nothing, and leaves, but the beautiful Catalina Hager throws a glass of water in Cody's face. Cody and Dustin get mad and yell at them to leave.
How can you disrespect the TNT Champ @CodyRhodes like this ??? #AEWDynamite pic.twitter.com/oyc52N33NC

- All Elite Wrestling on TNT (@AEWonTNT) June 25, 2020
► 4- Mr. Brodie Lee and Colt "Boom Boom" Cabana vs. Joey Janela and Sonny Kiss
Interestingly, Janela and Kiss do not have an entrance, but were already in the ring. Sony Kiss starts by throwing himself on Brodie Lee, hits his chest with his legs and spins in the air, interesting move. Lee tires of her games and whips her neck and then sends her flying.
Janela enters the ring, Brodie Lee hits him and Colt Cabana is replaced.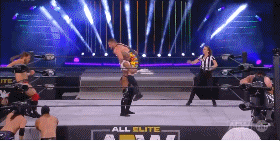 Cabana in the ring, hit Sonny Kiss against the cornerback, the truth is the way he moves in the ring and reacts to shock Sonny Kiss is pretty good.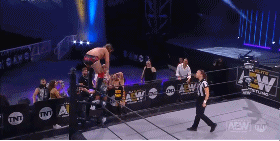 The fight is quite moving, to tell the truth, but Brodie Lee has not intervened as much. Janela and Kiss are the ones who have dominated, curiously. And they even fell on top of 10 when they tried to intervene. Read with her classic Superkick to the face of Sony Kiss.
Mr. Brodie Lee applies his Lariat to Joey Janela and gives him to Colt Cabana to cover this and win the fight. Colt Cabana looks happy with this new union.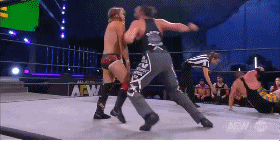 Everyone leaves ... and Lance Archer appears and hits Sonny Kiss on the back of the neck! Then he lashes out at Joey Janela and Jake "The Snake" Roberts has to stop him, because he was going to hit him with a chair.
A video of how Shawk Spears achieved a victory last night on AEW Dark is shown., but thanks to a kind of iron that Tully Blanchard gave him to put in his glove.
► 5- SoCal Uncensored (Frankie Kazarian and Christopher Daniels) vs. FTR (Fear The Revolt - Cash Wheeler and Dax Harwood)
A fight of four true connoisseurs of the art of Catch-As-Can. Dax Harwood goes on top of Kazarian and manages to knock him down, then stomps on his knee, starts psychology. Short relief for Wheeler, who enters to lighten Kazarian's left arm.
Daniels enters the ring to help Franke and takes over. One detail: Daniels pulls Wheeler to bounce off the ropes, and Harwood takes it to prevent it from going forward and Daniels gives his flying kicks into the air.
After this, a two-on-two fight is built and the FTR takes their rivals out of the ring, although they all lie a few seconds before going to commercials.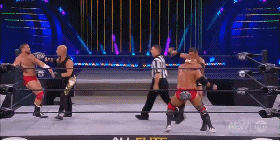 Back in action, Hardwood is demonized. He pulls Kazarian out of the ring and applies a tremendous Suplex to Daniels for a two count. So far it has been quite an interesting fight. I wish there was a real audience getting excited about everything we see. Of course, it must be said that it seems that both couples are taking care of each other.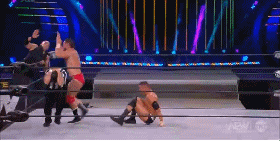 Daniels with a shredder for Harwood, enters the Wheeler ring and lowers the fire on the rice. Although later, Kazarian puts him head first against the canvas. The end of the fight occurs right after. FTR win the match.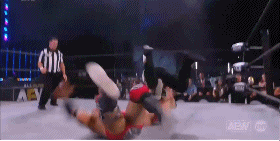 After the fight, Dax Harwood repeats that they are the best team in history and they mess with Jungle Boy and the "dynasty that".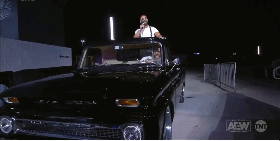 "We are the best team on the planet" ... But The Butcher and The Blade appear in their car and behind FTR appears Pentagón Jr and Rey Fenix.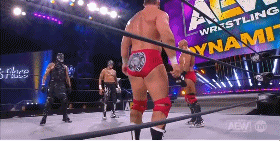 Butcher and Blade challenge FTR to a fight in Fyter Fest and Lucha Bros attack them.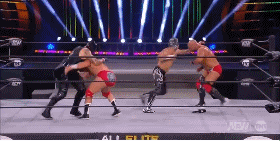 The Young Bucks appear and Lucha Bros and The Butcher and The Blade leave in the FTR's vintage luxury car.
Sh * t just got real!
Watch #AEWDynamite NOW on @TNTDrama or https://t.co/GdI7QAsxEP for our International fans. #AEWonTNT @AEWonTNT pic.twitter.com/VSblxXAn9I

- All Elite Wrestling (@AEWrestling) June 25, 2020
► 6- Brian Cage (with Taz in the comments) vs. Joe Cruz
The Machine presumes that it can do weights with its rival.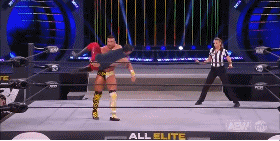 Then Suplex in the ring and then throws him to the canvas from the entrance ramp in this dangerous move ...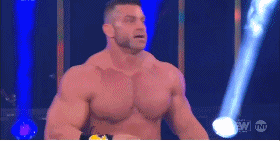 And finally, Brian Cage wins the fight in less than a minute like this: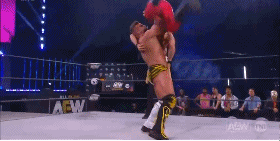 Taz takes the microphone and sends a message to Jon Moxley.
"Where are you? Where's the strong guy? See you at AEW Fyter Fest 2020, champion! He comes to work, he shows up to fight ... while you are at your house with an excuse of hell! The Machine Brian Cage is going to take your championship! Ask yourself this question: Can you stop Brian Cage?"
.@OfficialTAZ had some strong words for your #AEW World champion @JonMoxley.
Watch #AEWDynamite NOW on @TNTDrama or https://t.co/GdI7QAsxEP for our International fans. #AEWonTNT @AEWonTNT pic.twitter.com/bCYuqggp6H

- All Elite Wrestling (@AEWrestling) June 25, 2020
Mr. Brodie Lee tells Colt Cabana that if they hit him it was to see how he reacted and that now that he is with them, he ended up with the hand raised by the referee. Brodie Lee tells him that he will demonstrate his formula of success once again when they face SoCal Uncensored again at AEW Fyter Fest 2020.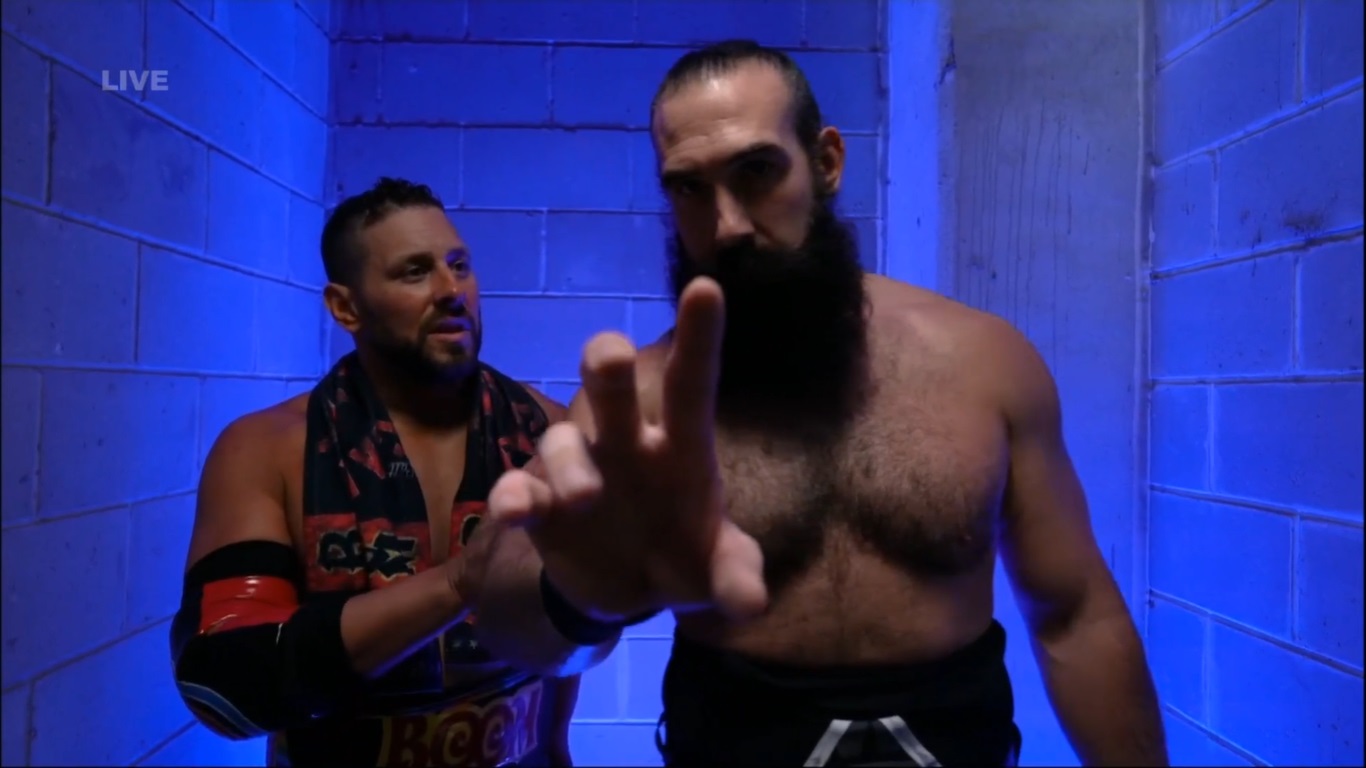 It will be an Australian reveal fight of 3 fighters, but Colt Cabana is not yet part of The Dark Order.
Britt Baker sends another insulting note to Tony Schiavone, the second of the night, tells him that it is rubbish, the largest in AEW. Big Swole appears and Britt Baker sends her to fly, because for that she has a plexiglass protection barrier.
But Big Swole gets on a platform and throws trash on it.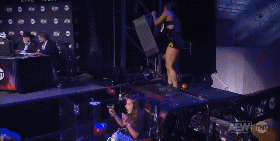 Update: Sooo that plexiglass didn't quite stop @SwoleWorld, @RealBrittBaker. #AEWDynamite pic.twitter.com/OBKFT0U8Im

- All Elite Wrestling on TNT (@AEWonTNT) June 25, 2020
► 7- "Broken" Matt Hardy vs. Santana (with Ortiz)
Gotta love @MATTHARDYBRAND and NEO 1 #AEWDynamite pic.twitter.com/FOk00k3tXb

- All Elite Wrestling on TNT (@AEWonTNT) June 25, 2020
Fans chose Matt Hardy to appear under his version of Broken. Santana is not afraid of him and he goes over and hits him with tremendous right hands. Hardy applies a catapult to him and sends him out of the ring. Tremendous slap in the face, Santana is being overpowered now.
Hardy bites his hand, and sends him into the ring. The fighters are more boisterous than before, surely they asked for more emotion.
Santana is showing that he has what on an individual level.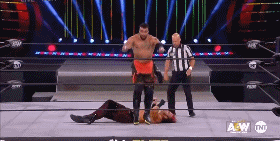 Santana hits Hardy on the corner, rumbles like a drum. Hardy recovers and raises his leg to avoid a new attack, but it is of little use to him, Because Santana leaves him with one knee on the canvas and then, he throws him from the corner, but Hardy dodges an iron.
Now they are engaged in an exchange of right hands, of which Hardy takes advantage because he manages to bring down the Latino. Then it gives him a tremendous tackle, for coverage in two. Santana is repeatedly thrown face-first into the corner protectors. And then a tremendous lasso followed by a lash against the canvas, counts in two.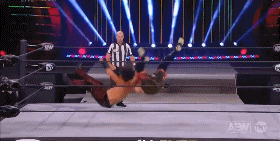 Three lashes like the one you see above, and the account does not go more than two. Hardy with the Twist Of Fate, Ortiz enters the ring and the referee does not start the count.
How in the world did @MATTHARDYBRAND Escape @Santana_Proud TWICE? #AEWDynamite pic.twitter.com/IuVV5BnJmc

- All Elite Wrestling on TNT (@AEWonTNT) June 25, 2020
Santana with this beautiful move, but Matt Hardy turns his back, rolls him up and takes the big win.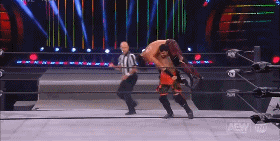 Ok that looked like it definitely hurt #AEWDynamite pic.twitter.com/qECA71eARU

- All Elite Wrestling on TNT (@AEWonTNT) June 25, 2020
Ortiz hits Hardy and they make this move.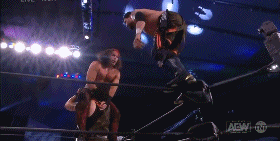 Marq Quen and Isiah Kassidy appear to help Matt Hardy and Santana and Ortiz, the Proud and Powerful, leave.
► 8- CAREO PRIOR TO AEW FYTER FEST 2020
Chris Jericho and Orange Cassidy
Chris Jericho takes the microphone and begins to speak:
"Why did the chick cross the street? To get to the other side. It is a joke that everyone knows. At first it's kind of funny, but after a while the joke gets annoying ... just like Cassidy. You just piss me off. Your struggles are a disgrace to the business. I even called my superiors to ask why the hell they brought you to AEW. But they told me that people loved you. And I applaud you because you made love to the public for yourself by doing something different. Part of your appeal is that you look a lot like fans: lazy and lazy. I'm going to knock you out when you give me one of those lazy kicks! The Orange Cassidy phenomenon will end at AEW Fyter Fest 2020 because I will make sure Cassidy runs out of orange juice. "
Orange Cassidy takes the microphone from him and leaves it on the mat! He kicks Jericho, mocking him. He even puts his hands in his pockets! Jericho removes his glasses and damages them well damaged. Bye Ray-Ban. Chaos ensues, Cassidy knocks Jericho down and knocks him out of the arena!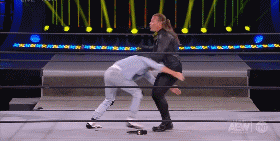 With a right hand, Jericho knocks him down and then throws him against a protective barricade. But that lasts a short time ...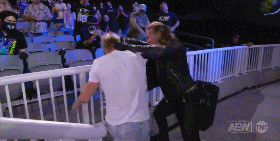 Jericho and Cassidy battle for each other, it seems that not all are fighters, as seen.
Jericho hits him with the mechanical arm that holds a camera, and then hits him on the head. Try to focus towards the ground, then look through the camera, but he quickly realizes that he is not connected to the transmission, much less turned on, and he conceals it very well by raising his arms.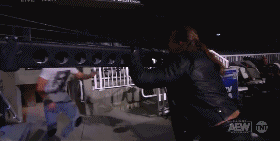 Chris Jericho climbs into a container, plans to blow Orange's back there, but ... He gets down and hits his face with the protection barricade several times!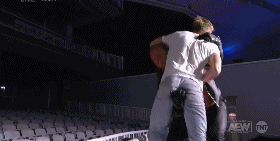 A pretty angry Orange Cassidy, like never ... Run down that ramp near the bleachers! Tremendous Superman Punch by Orange Cassidy towards Chris Jericho, who goes flying and breaks a table!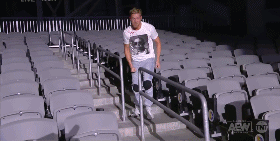 NEVER
EVER
TOUCH
THE RAYBANS

Rewatch #AEWDynamite via the @tntdrama app or https://t.co/GdI7QAsxEP for our International fans. #AEWonTNT @AEWonTNT pic.twitter.com/ekuwcbWx9P

- All Elite Wrestling (@AEWrestling) June 25, 2020
This really is a rivalry we can all get behind 👏 Bring on @IAmJericho vs @orangecassidy at #FyterFest #AEWDynamite pic.twitter.com/R4YnpEgme1

- All Elite Wrestling on TNT (@AEWonTNT) June 25, 2020
End of the show. Thanks for the company. See you this Friday in WWE Friday Night SmackDown coverage.